5 May, 2021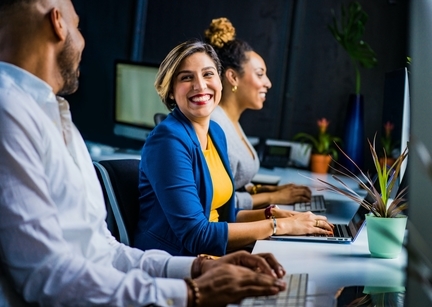 The COVID-19 pandemic has exposed and exacerbated many of the most persistent issues facing healthcare administrators. In a February 2021 survey conducted by the U.S. Department of Health and Human Services Office of the Inspector General, hospital administrators reported pandemic-fueled worries about overstretched workforces and budgets. However, they also raised long-term issues like disparities in access to services, the technical demands of telehealth, a shortage of mental health services and staff turnover.
Strategic decision making was already vital to organizations such as hospitals, biopharmaceutical firms and payer organizations, but connecting business savvy with medical services and products will be even more crucial as we move forward. The U.S. healthcare industry relies on administrative leaders who can navigate the system's unique challenges and complex regulations, while balancing both efficiency and high-quality services.
Building resilient operations that are equipped for normal operations and the next crisis requires professionals with specialized skills and knowledge. Healthcare administrators make a difference in communities by helping their organizations adopt new technology, comply with regulations and find insights in data. You can prepare to excel in these careers with a master's in healthcare administration, blending creative problem solving with quantitative research and sector knowledge.
---
What You Can Do With a Master's in Healthcare Administration
Healthcare is not only a human necessity, but also a massive industry. Federal data shows that healthcare spending represented 17.7% of the U.S. gross domestic product in 2019. Administrators use their expertise to help organizations meet their goals and change with the times in a high-stakes, constantly shifting healthcare landscape.
Healthcare managers and executives contribute to a variety of workplaces, including:
Hospitals
Private medical practices
Physician group practices
Biopharmaceutical companies
Payer organizations
Government agencies
Outpatient care centers
Nursing and residential care facilities
Home care organizations
Mental health facilities
Rehabilitation centers
In each setting, administrators handle a varied set of responsibilities such as management, leadership, compliance, operations and budgeting. For example, hospital administrators are often tasked with setting the budget and coordinating services between departments. Additionally, a manager in a private medical practice might focus on overseeing a billing system and maintaining a schedule for providers.
While their day-to-day responsibilities differ, all professionals in this field need to understand the relationship between healthcare and business. Healthcare administrators must be capable of guiding their organizations to operate effectively and ethically.
---
Master's in Healthcare Administration Job Outlook
The healthcare management field is growing quickly, creating new opportunities for careers with a master's in healthcare administration. The U.S. Bureau of Labor Statistics projected a 32% increase in positions for medical and health services management professionals between 2019 and 2029, vastly outpacing the average growth rate of 4% for all occupations.
This rapid expansion of roles for managers and executives is driven by factors like an aging population. With more people living longer, healthcare organizations must employ personnel to update operations, processes and facilities for the changing needs of older Americans. That transformation can involve more screenings and preventive services, coordinating care among providers and payers, new policies and developing the resources to treat individuals for multiple chronic conditions.
Advances in health information technology are another reason for job growth, as state-of-the-art tools enable providers to share information securely across multiple systems. Analytics and decision tools can reveal patterns in patient data and offer a window into organizational inefficiencies.
For example, researchers at the UCLA Fielding School of Public Health used demographic information to identify the populations that were at greatest risk during the COVID-19 pandemic. In addition, University of California hospitals paved the way for better responses to future crises by providing a massive repository of anonymized patient data — including symptoms, medications and lab test results — to a centralized resource at the National Institutes of Health.
The growing importance of analytics for management decisions means that skills in gathering, analyzing and visualizing data are increasingly essential. Administrative professionals can help usher healthcare into the future by using the latest best practices to securely handle electronic records and identify statistical insights.
---
Master's in Healthcare Administration Salary Information
According to the BLS, healthcare management professionals earned a median salary of $100,980 in 2019. The highest-paying employers in the field are government agencies and hospital systems.
A review of healthcare administration job postings via Burning Glass Labor Insight showed that employers most commonly request skills in business processes and analysis. Meanwhile, salary premiums are associated with capabilities in project management, quality management and acute care. To advance in this field, administrators need to be familiar with the diverse systems that make a healthcare organization work and lead teams toward their long-term objectives.
---
Master's in Healthcare Administration Jobs
Earning a master's degree in healthcare administration prepares you for roles focused on improving how organizations deliver results for patients and providers. These are some of the MHA career paths you can pursue with a multidisciplinary education that explores concepts in business, finance, marketing, data analytics and organizational behavior:
Biopharmaceutical Manager
Biopharmaceutical managers harness extensive resources, including the work of numerous researchers, physicians and engineers, to bring pharmaceuticals or medical devices to market. Leaders at biopharmaceutical firms are responsible for supervising the processes of development and testing. In addition to being skilled communicators and organizational thinkers, these professionals should possess a thorough understanding of relevant safety concerns and regulations.
Clinical Director/Supervisor
Clinical directors and supervisors are responsible for administering clinical departments within a healthcare organization, which may focus on a range of specialized areas like cardiology, dermatology, oncology or geriatric medicine. Supervising those departments calls for maintaining a budget, strategizing to provide services efficiently and striving toward long-term growth.
Clinical Trials Manager
Clinical trials managers oversee processes that are fundamental to developmenting new treatments, pharmaceuticals and medical products. The manager coordinates teams of researchers and ensures they follow all applicable protocols and regulations while running trials. These professionals combine a thorough understanding of medical research procedures with the business skills to organize personnel, track a budget and communicate with stakeholders.
Data Analyst
Data analysts can lead transformations in healthcare organizations by discovering strategic perspectives in data gathered from electronic health records, billing history, prescriptions, lab results and patient vitals. Analytics insights guide efforts to streamline operations and improve patient outcomes. By synthesizing information from multiple sources, healthcare organizations can proactively address the needs of populations, reduce spending on unnecessary procedures and pursue well-informed business plans.
Finance Manager
Finance managers help an organization achieve sustainable growth by developing budgets, performing data analysis, reporting on performance and making investment decisions — such as deciding which research activities to prioritize and fund. In the healthcare industry, this role involves meeting intensive legal requirements and offers unique possibilities for supporting innovation. A well-calibrated financial strategy may be the key to enable groundbreaking research or implement new technology for data collection and evaluation.
Healthcare Consultant
Healthcare consultants are employed by organizations to provide recommendations on how to improve performance and increase efficiency. Reaching those goals requires careful research, which may include both analyzing data and directly interacting with workers or managers. A career in this field demands extensive familiarity with the healthcare system, an understanding of the behavioral dynamics within organizations and problem-solving skills.
Healthcare Executive
Senior healthcare executives coordinate the work of departments within an organization and set long-term strategy. These leaders apply their specialized knowledge and years of experience in areas such as patient care, information systems, human resources or finance. Executives must be able to motivate their employees as well as discuss complicated ideas in both writing and presentations. Although executives are responsible for the big picture of organization-wide strategy, they should also have the expertise to communicate one-on-one with health practitioners from a variety of backgrounds and help employees throughout their organizations reach their goals.
Operations Manager
Operations managers are employed in a wide range of businesses to set workplace policies and ensure that processes, like the production of pharmaceuticals or medical devices, run accordingly. Leaders in this role may be responsible for multiple locations, such as manufacturing facilities and warehouses. In the healthcare industry, it's vital for these professionals to understand a unique set of regulations and quality requirements, as well as the needs of the workers they oversee.
Quality and Safety Manager
Quality and safety managers develop, implement and monitor programs intended to protect patients and minimize reporting errors. They lead efforts to provide a high level of service while maintaining the well-being of individuals and communities. These managers' responsibilities can include tracking accidents within a facility, recommending corrective actions and training employees.
Risk and Compliance Manager
Risk and compliance managers draw on their knowledge of legal requirements to develop policies, provide training and investigate possible violations. Since healthcare organizations are obligated to guard the health and privacy of patients, they are subject to an enormously complicated array of federal and state regulations. A risk management program can go beyond enforcing legal compliance to address any areas of potential liability within an organization, from the use of technology for recordkeeping to clinical safety practices.
---
Preparing to Lead in Healthcare
Whether they work in a care facility, private firm, nonprofit or government agency, healthcare leaders discover endless opportunities to affect the lives of individuals and communities. In a healthcare administration master's program, you can gain the advanced skills you need to succeed in one of these roles.
Professional opportunities are abundant for strategic decision makers who have the specialized knowledge to operate within the U.S. healthcare system. The changes ahead will be driven by organizations that prepare for the future of the industry by capturing the value of data from multiple sources while promoting strict compliance with regulations and ethical guidelines, Earning an MHA will help you develop the educational background and hands-on experience you need to reach your objectives in a rapidly evolving healthcare administration field.
---
About the Online Master of Healthcare Administration at the UCLA Fielding School of Public Health
The online Master of Healthcare Administration (MHA) from the UCLA Fielding School of Public Health can prepare you for leadership roles in healthcare organizations. The MHA curriculum builds multidisciplinary skills in areas such as analytics, budgeting and effective communication. This program explores the concepts and strategies that managers and executives apply to achieve improved health outcomes and more efficient operations.
Courses in the MHA are taught by groundbreaking researchers and experienced professionals in both healthcare and management. Faculty members at the UCLA Fielding School participate in global efforts to improve the well-being of communities and lead research centers dedicated to pioneering work in public health. UCLA ranks No. 1 among public universities according to U.S. News & World Report.
---
Request Brochure
Fill out the fields to download a program brochure and request more information about the online Master of Healthcare Administration from the UCLA Fielding School of Public Health. You can also contact a program representative with your questions by calling toll-free at (877) 819-5033.
*
All Fields are Required. Your Privacy is Protected.
Are you enrolling from outside the U.S.? Click here.