1 April, 2022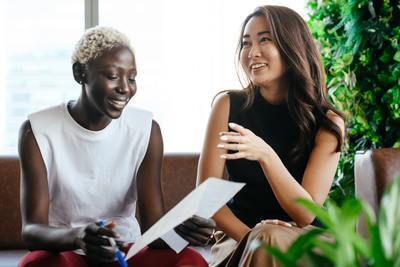 Healthcare administrators face numerous and multifaceted challenges. One immediate concern is that burnout among U.S. frontline healthcare workers reached 55 percent in 2021, and hospitals are so hindered by staffing shortages that they are hiring nurses internationally. In addition, leaders must simultaneously promote patient-centered care and equity by addressing other issues, such as maintaining patient privacy in an era of digital healthcare and ending the use of stigmatizing language in admission notes.
Solutions to these challenges are similarly complex. While finding meaningful ways to improve job satisfaction, organizations must also prioritize incorporating technology to improve the patient experience. How leaders roll out these new tools and processes will be a key factor in accelerating digital adoption.
This all points to a crucial fact: The strength of our healthcare systems relies on the administrative talent organizing change and supporting our frontline workers. It is clear that our healthcare administrators must be sharp, focused and readily prepared for the unique challenges of running an effective healthcare system.
What does this mean for you, a prospective graduate student striving to excel in your career in healthcare administration? It means you need an education that gives you the skills to thrive in your leadership role.
You may consider a few degree program options, such as a master of healthcare administration, a master of business administration with a focus on healthcare management, or a master of public health. In this article, we'll dive into the MBA vs. MHA comparison to help you select the program that makes the most sense for your career aspirations.
---
MBA in Healthcare Management vs. Master's in Healthcare Administration: Curricula and Learning Outcomes
A master's in healthcare administration curriculum keeps focus on business concepts and management techniques specifically related to the healthcare sector. This engagement is evident throughout courses in topics like healthcare information technology, organizational behavior in health systems, and statistics for health management decision-making. In an MHA program, you can learn:
How U.S. healthcare systems are organized and financed
Strategies to market healthcare services and products
How to leverage healthcare systems data for actionable insights
Best practices to inform public health measures
Ethical and legal considerations involved in patient privacy, organizational funding, etc.
Jamie Pham, an MHA student at the UCLA Fielding School of Public Health, noted how crucial the specificity of MHA courses are to understanding the issues that healthcare administrators must handle:
"The microeconomics of the health sector course with Dr. Ninez Ponce really opened my eyes to the healthcare market and the different provider payment schemes," said Pham. "Choosing different payment methods can affect provider behavior, and different insurance plans affect consumer behavior."
Comparatively, an MBA in healthcare management curriculum is more generalized, supporting a wide range of business applications. While students learn about organizational operations and finance in healthcare practices, they also acquire more generalized business knowledge, exploring trends, methods and advances in areas like:
Strategic decision making
Risk management
Finance and accounting
Print and digital marketing
Accelerating growth
Entering new and emerging markets
This broader education supports careers within and outside of the healthcare industry. Students with an MBA in healthcare management may find themselves well prepared for leadership roles in fields as wide-ranging as tech, finance and engineering.
---
MBA in Healthcare Management vs. Master's in Healthcare Administration: Industry Outlook and Careers
Job openings for medical and health services managers are expected to grow at a faster-than-average rate of 32 percent between 2020 and 2030, according to the U.S. Bureau of Labor Statistics. In 2020, the average salary for these roles was $104,280. The BLS notes that common specializations for this position can be in healthcare and clinical fields, as well as in public health and social services, not only business administration.
Per PayScale, the average salary for graduates with an MHA is $79,000. Careers with a master's in healthcare administration include:
Data analyst
Healthcare consultant
Clinical director or supervisor
Biopharmaceutical manager
Clinical trials manager
Healthcare executive
Writing in The Journal of Health Administration Education, UCLA professor and MHA faculty member Laura Erskine, Ph.D., discusses the findings of a survey of incoming graduate students in healthcare management programs. A majority of these students–several of whom also considered MBA programs–saw an MHA as providing the best pathway for their desired careers and similar job opportunities.
MBA programs, including those in healthcare management, prepare students for a wide range of positions. Per the BLS, business and financial occupations are projected to grow at an average rate of 8 percent from 2020-30 and have a salary average of $72,250. There are a variety of MBA in healthcare management careers available, such as:
Project manager
Practice administrator
Director of operations
Senior financial analyst
---
MBA in Healthcare Management vs. Master's in Healthcare Administration: Program Requirements and Background
MHA and MBA in healthcare management programs commonly have similar admissions requirements, which may include:
A bachelor's degree from an accredited institution
A minimum GPA
GMAT or GRE scores
Two or three years of work experience
A professional resume
A personal statement
Letters of recommendation
While student respondents to Dr. Erskine's survey saw MBA programs as the more versatile option, they also viewed them as more demanding in terms of admissions. Business schools are notoriously expensive and competitive, and pandemic-related deferrals made these schools even more selective just as application numbers have surged.
"Funnily enough, the person who truly convinced me to go for an MHA was the admissions rep from the UCLA Anderson School of Management," said Fielding School student Monique Trinh. After asking if she wanted to stay in the healthcare field–"Which of course I did," said Trinh–he advised her to enter the MHA program because of her established career in the healthcare field.
"Pursuing this degree was the best decision for me," said Trinh. "The classes have been a lot of work but beyond fascinating, and I love that they're directly applicable to my role."
---
Is an MHA Right for Me?
Either an MHA or an MBA in healthcare management education can provide a wealth of knowledge and skills applicable in healthcare leadership roles. Many students see an MHA as the right pathway tying their current experience to their dream role.
"I'm constantly applying what I learn in class to my current job and in my roles on various equity, diversity and inclusion committees at UCLA," said Trinh. "As I continue to grow and develop as a healthcare administrator and delve deeper into the MHA program, I know that I eventually want to end up in a leadership position."
A master's in healthcare administration is a great option if you are passionate about improving healthcare outcomes from a non-clinical perspective. Whether your talents are administrative rather than science-based, or your personal experience with the healthcare system has inspired you to work for its improvement, an MHA can help you build your knowledge, skills and leadership abilities to bring positive change in this vital field.
"The thing that excites me most about being an MHA student is the fact that every week I am learning new things about healthcare and gaining a larger perspective of our economy and the health disparities within our nation," said Pham. "It really puts things into perspective."
---
About the Online Master of Healthcare Administration at the UCLA Fielding School of Public Health
The online Master of Healthcare Administration (MHA) from the UCLA Fielding School of Public Health can prepare you for leadership roles in healthcare organizations. The MHA curriculum builds multidisciplinary skills in areas such as analytics, budgeting and effective communication. This program explores the concepts and strategies that managers and executives apply to achieve improved health outcomes and more efficient operations.
Courses in the MHA are taught by groundbreaking researchers and experienced professionals in both healthcare and management. MHA faculty members at the UCLA Fielding School participate in global efforts to improve the well-being of communities and lead research centers dedicated to pioneering work in public health. UCLA ranks No. 1 among public universities according to U.S. News & World Report.